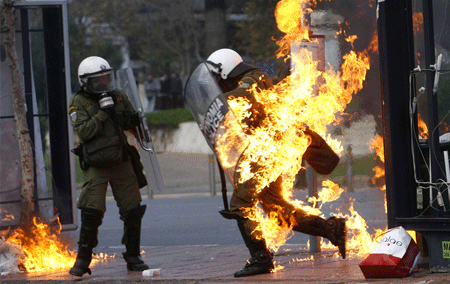 uncut version…wait until they try to raise our taxes in the US!!
The government has declared war and to this war we will answer back with war,' protester says
ATHENS, Greece
— Riot police fired tear gas at youths hurling rocks and setting trash bins on fire near the Greek finance ministry Tuesday, trying to quell the anger unleashed by a general strike as parliament debated new cost-cutting measures.
The latest austerity plan must pass in two parliamentary votes Wednesday and Thursday if Greece is to receive bailout funds from the EU and the IMF that will keep it from becoming the first eurozone nation to default on its debts.
The clashes with police came at the start of a two-day general strike called by unions furious that the government's new euro28 billion ($40 billion) austerity program will slap taxes on minimum wage earners and other struggling Greeks.
The measures come on top of other spending cuts and tax hikes that have sent the Greek unemployment rate soaring to over 16 percent.
More than 5,000 police were deployed to the centre of the capital to
deal
with expected trouble, as a crowd officials estimated at some 20,000 rallied in Syntagma Square, in front of the parliament building.